This academic year, the CRCN welcomes four new professors! Julie Bertels, Axelle Calcus, Adélaïde de Heering and Gaétane Deliens (from left to right) are now permanent members of the Faculty of Psychological and Educational Sciences at the ULB.
We share Julie Bertels with the Faculty of Medicine! Julie teaches classes on developmental psychology and methods. Her research interest is centered around our Babylab. With the help of her small participants and their parents, Julie investigates infants' ability to learn from their environment, a capacity called statistical learning.
Axelle Calcus's main research interest is the neuroscience and cognition of hearing, specifically of speech in noise. For her research, Axelle conducts studies with children and teenagers with and without hearing difficulties. Axelle is also an active part of the wider Belgian scientific community, as member of the executive committee of the BAPS and B-AUDIO, and has an active twitter presence.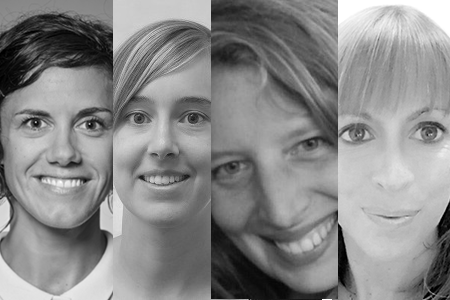 Adélaïde de Heering obtained one of this year's "chaire non-profilée" positions at the ULB. Her main research interest is (audio)visual perception, and particularly of faces, that she explores across the lifespan (participants in her lab come from all age groups) and in pathological populations such as blind people. The classes Adélaïde teaches are methods and research-focused, as for example a course on current questions in Psychological Sciences specially dedicated to students willing to start a Ph.D.
Gaétane Deliens uses paradigms of cognitive psychology to study autism. She currently studies how difficulties with sensorial integration can impact language learning in children with autism, as well as the role of sleep disorders within the autism spectrum disorder. Gaétane conducts her work in an interdisciplinary setting, the ACTE group (Autisme en Contexte, Théorie et Expérience). If you are interested in Gaétanes work, you can watch this excellent video to learn more about her field of study.
pictured from left to right: Julie Bertels, Axelle Calcus, Adélaïde de Heering, Gaétane Deliens